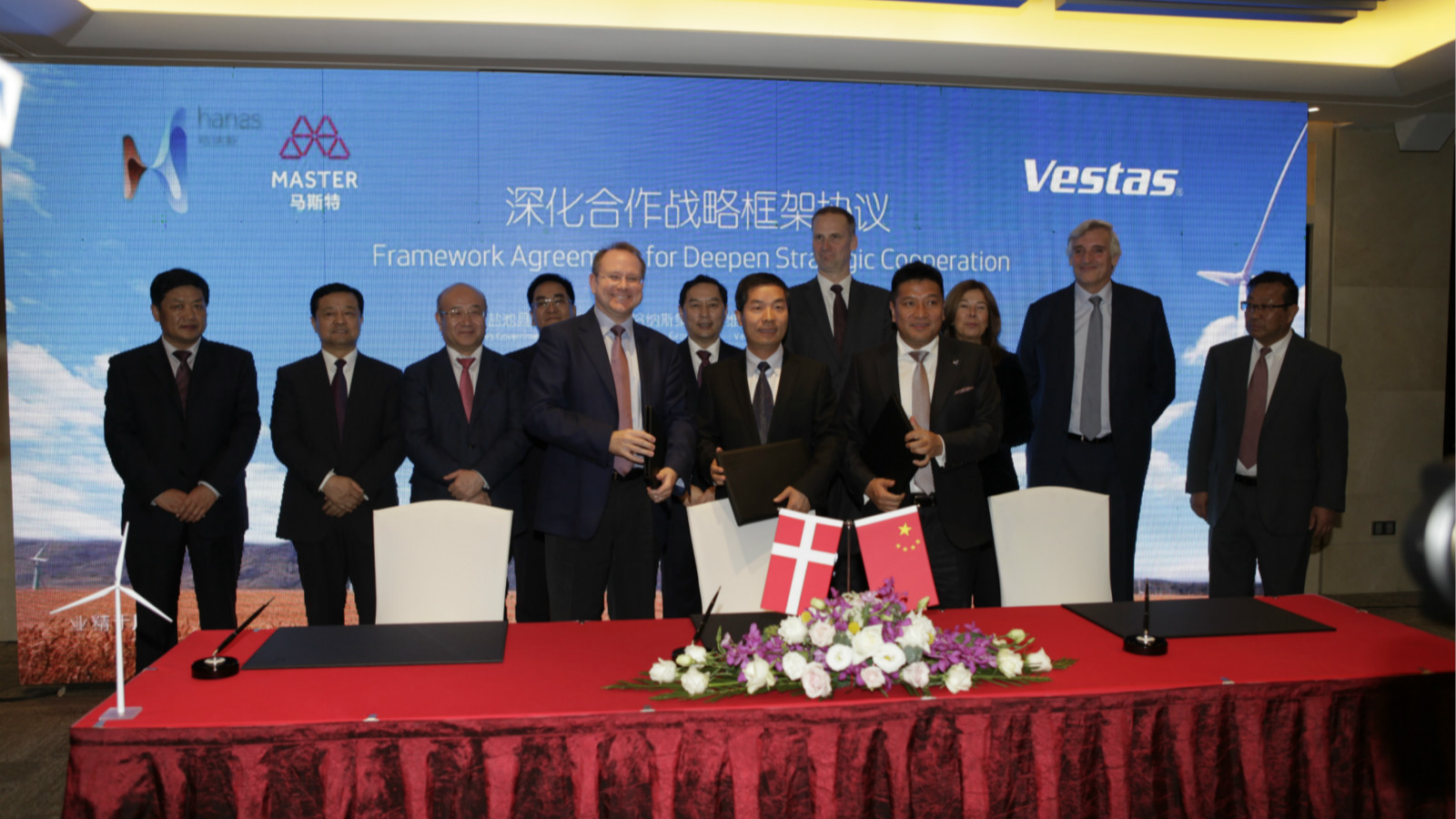 Yanchi Government, Vestas and Hanas have signing ceremony
On October 14th aftgernoon, Yanchi County Government of Ningxia Hui Autonomous Region, Vestas China and Hanas Group held a signing ceremony in Kembinski Hotel Yinchuan. Dai Peiji, CountyMagistrate of Yanchi, Chris Beaufait, GSVP, President Vestas APC/China and Ma Fuqiang, CEO of Hanas Group represent three parties and signed the letter of intent for Long-term Strategic Cooperation, which becomes a new stage for strengthen the cooperation. Zhang Chaochao, Executive Vice President of Autonomous Region, Lars Bo Larsen, Vice Ambassador of Denmark and other leaders of Autonomous Region, Vestas and Hanas showed up and witness the moment.
The letter includes several items such as purchasing contract of 300MW wind power generators between Hanas and Vestas and Vestas establishing a data center locally for Hanas, etc. Based on the long-term strategic cooperation between two companies, Hanas and Vestas stick to continued cooperation and prolonged and intensive resource development. In the meantime, Yanchi government actively encourages and supports the cooperative relations between two companies.
Since 2009 when Hanas and Vestas started the cooperation, Hanas has established wind farm with the capacity of 60 gigawatts under support from the government.
On the basis of the newly-signed letter, Hanas and Vestas agreed to keep digging in their cooperative relations in the future with the harder work on early studies of wind sources, the introduction of V110 low-Speed turbines and solutions of long-term services, etc. Vestas will consider setting up a data center in Ningxia in order to help the enterprises with their maximum wind power output and establishing a Vestas technic help center also to provide overall services for wind farm construction, on the basis of what, Vestas hopes to build a wind power base which can serve Ningxia and later the whole North-western area.