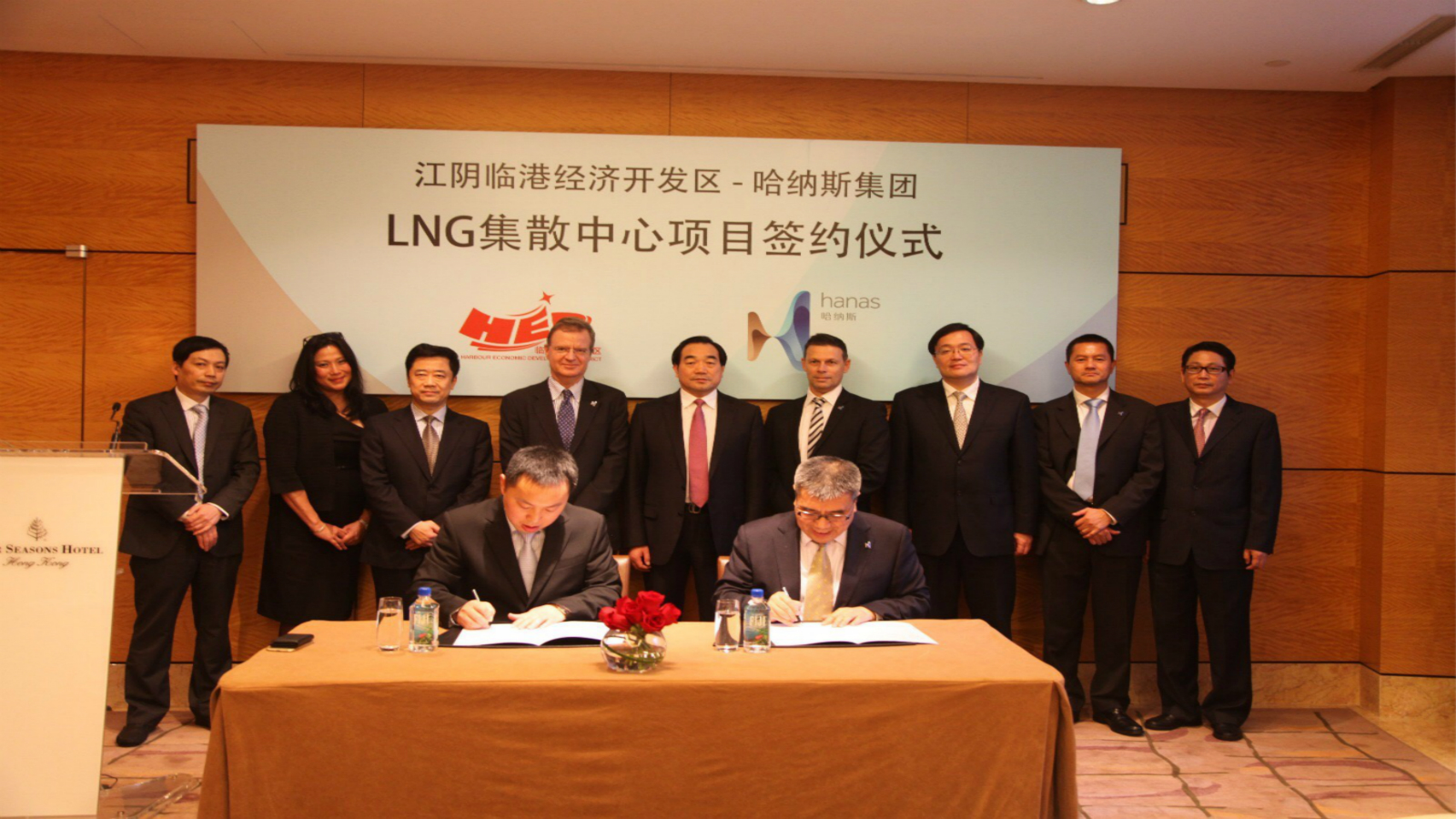 Signing Ceremony of LNG Entrepot Project of Hanas Group and Jiangyin Harbour Economic Development District
On the afternoon of December 17, Zhou Tiegen, the standing committee and the secretary of Wuxi municipal party Committee, Xu Dongqing, the standing committee and the director of harbour economic development district, Ji Jun, the standing committee and the deputy mayor and their delegation visited the headquarter of Hanas Group in Hongkong. Michiel Mak, CEO of Hanas LNG business unit, Gary Robertson and Du Yanzhong, the vice president and Ho Yolanda Yung, director of president office and their management team rolled out the red carpet for Jiangyin delegation.
Two sides held a meeting concentrating on the development of clean energy centering on Jiangyin. To begin with, Mr. Mak and Mr. Robertson introduced Hanas'overall strategy of clean energy and more detailed strategic ideas in Jiangyin, followed by the introduction of economic achievement and unique advantages of Jiangyin give by Mr. Zhou Tiegen. Both sides compared notes about the construction of LNG terminals in Jiangyin and the development of LNG downstream value chains. Mr. Zhou highly appreciates the contributions that Hanas has made in clean energy and achievements so far being accomplished. He also recognizes the clean energy plan in Yangtze River Delta laid by Hanas and deeply believes in the success of business in Jiangyin with the integration of Hanas' enterprise tenet of promise and safety and its international expertise and management which makes Hanas the best partner. Mr. Mak reckons Jiangyin the ideal place for Hanas'Yangtze strategy on account of its excellent location, precious coastline resources of Yangtze River Delta. Besides, Jiangyin tops the list of Best County 100 in China, thus the favorable investment environment and governmental service system.
Next came the signing ceremony of LNG Entrepot Project of Hanas Group and Jiangyin harbour economic development district. The project has a total investment of 15 billion yuan which aims to build LNG entrepot along Yangtze and to develop midstream and downstream value chains of LNG , including LNG terminal/transfer station, natural gas electric station, LNG distributed energy resource, industrial fuel/raw material, city gas peak-shaving, natural gas pipeline network, LNG filling for automotive and boats, go-green center and photovoltaic power generation etc., which means LNG clean energy project will be the most significant LNG hundred-billion-valued entrepot of Yangtze River Delta and sets a new standard for clean energy industrial in Jiangyin, Wuxi, Yangtze River Delta and Yangtze River Basin. The project is a great example for full use of clean energy, low carbon and green economy and much weight has been put to the project due to how it changes the energy consumption pattern, its energy conservation and environment development.
Investment of the first phase is 600 million and the project is to build Yangtze LNG terminal/transfer station in Shizhuang area of Jiangyin harbour economic development district. When completed, the annual turnover capacity will be 1 million and further 3 million.